Thinking it's time for a bathroom renovation? While electrics may not be the first thing you think of when it comes to bathroom upgrades, there are so many ways you can improve your bathroom electrics.
Many of us start and end our day in the bathroom, so why not do everything you can do, make it a beautiful, tranquil space?
Not sure where to start? Here's some advice from the leading bathroom renovation electricians in Brisbane.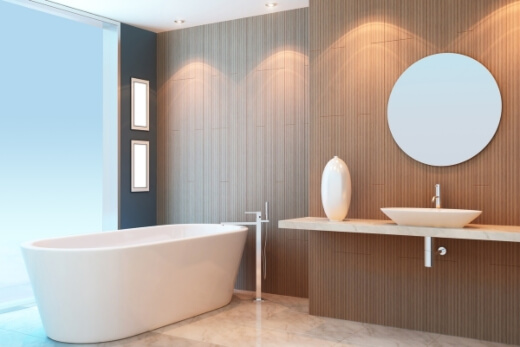 What to Consider During Bathroom Renovation
Your bathroom is meant to be a space where you can relax and unwind. Sure, many people focus on what type of taps or showers they want when it comes to bathroom renovations. Still, you can add some really nifty electrical bathroom upgrades to enhance your entire experience. 
The most important thing when it comes to electrical upgrades in your bathroom is to make sure that they are done safely. Due to the high humidity and moisture present in a bathroom, having open electrical outlets or non-waterproof appliances can be dangerous. However, when installed correctly, there are so many unique electrical upgrades that can take your bathroom from drab to fab. 
Here are our top choices for electrical upgrades to consider when redoing your bathroom: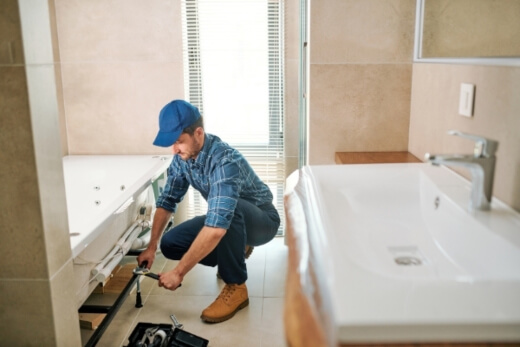 1. Improved Lighting
There are a lot of lighting opportunities when it comes to your bathroom renovation beyond your conventional ceiling mounted light. Adding dimmer switches is a great option, as it enables you to choose the level of light you want.
You can keep it bright in the mornings and dim it down when you want a relaxing bath. Consider some in-mirror lights if you like doing your make up in the bathroom. Add a few heat lamps to keep your bathroom toasty in the wintertime. If you're feeling fancy, maybe add a chandelier for an extra touch of class?
2. Get an Exhaust Fan
Some older bathrooms might not have an exhaust fan, even though they're a great asset. Exhaust fans reduce moisture build-up and improve air-flow. Thus, curbing the spread of mould and mildew. Plus, these days, you can get some really amazing exhaust fans with built-in lights or even a Bluetooth speaker.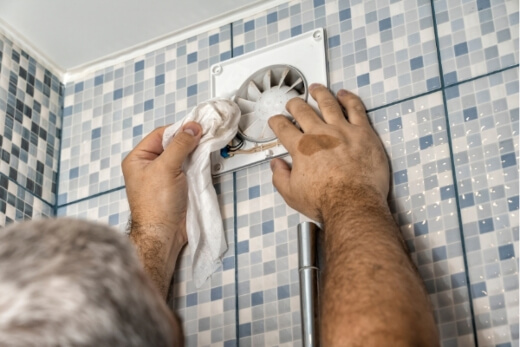 3. Heated Flooring
There are few things worse than stepping out from a hot shower onto a cold floor. Installing heated flooring is an excellent idea for those who want ceramic tile or stone floors. Especially in winter, having heated flooring can make your bathroom a whole lot more comfortable. It's perhaps one of the best bathroom upgrades to get. 
4. Heated Towel Racks
When it comes to your bathroom renovation, creating comfort is key. Heated towel racks are a simple solution just to add that extra touch of warmth and comfort to your bathroom. Simply mounted to the wall, these efficient racks will warm your towel for when you get out. 
5. Install Some Discreet Outlets
You won't want to be running extension cables into your bathroom. Consider installing some bathroom-safe and discreet outlets from which you can run some appliances like your shaver, hair dryer or straightener. In this case, it's absolutely vital to contract a licensed electrician to make sure your outlets are safe to use.
6. Add a Few Tech Extras
You can get some incredible smart tech to add to your bathroom space. Not only can you install a smart shower system, allowing you to program your shower or bath from your phone, but you can also consider installing some smaller screens or a waterproof TV for an utterly immersive experience.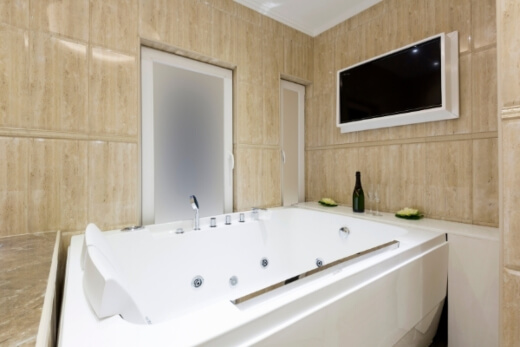 Quick Tips to Help You Save Some Costs
It's important not to try and save costs when it comes to any bathroom upgrade and renovation. Cutting corners can be risky. However, there are little tips you can use to help you save costs in other ways. Such as: 
Salvaging any functional sanitary ware. While you're busy with your bathroom renovation, always keep an eye on the things you might be able to salvage or repurpose elsewhere. 


Mix and match as much as possible. While you may want certain luxury items, see where you can add some cheaper items to add to your aesthetic. 

Keep it simple. Simple is always effective, and you don't need to overcrowd your bathroom. 

Adding lots of mirrors can make a small space feel larger. Don't be afraid to add an extra mirror or two to create a more spacious feel. 

Appoint a licensed electrician from the start to make sure everything you install is done correctly and won't need to be redone anytime soon. 
Why Choose Oleada for Your Electrical Bathroom Renovation?
At Oleada Electrical, we specialize in residential and commercial electrical renovations. Our experienced team of experts can provide you with the very best service and support throughout your bathroom renovation, from lighting to heated flooring. 
If you're looking for the best bathroom renovation electrician, contact Oleada Electrical today. 

Book your Electrical Bathroom Upgrade

Today
✔ Prompt Local Service    ✔ High Quality Workmanship    ✔ Excellent Value