Brisbane's Leading Electrician 
Open 24/7 for Emergency Electrical Work
We service the wider Brisbane region and the Gold Coast

 Save money   24/7
 10% off for seniors
High quality   No stress

Smoke Alarm Installation Brisbane
Is your family protected in your home? Having a smoke alarm installed is vital to providing them with a safe place to live. Alarms are crucial for the early detection of a fire.
Oleada Electrical is able to install smoke alarms in Brisbane that will help to protect your family.
It isn't enough to have an alarm installed. The alarm must be working at all times because it can be the difference between life and death. House fires are frightening and unpredictable. They can happen at any time and start anywhere in your home.
Smoke detectors have been proven to reduce the risk of death in a house fire. But for them to be effective, they must be working properly.
Only use a company that you can trust to install your smoke alarms in Brisbane correctly. A properly installed and maintained alarm can keep you and your family protected.
Oleada Electrical specialises in smoke alarm installation, testing and maintenance.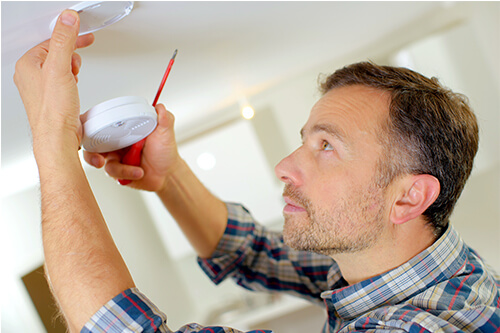 For the safety of everyone in your home as well as your neighbours, it is required that hardwired smoke alarms in Brisbane must be installed by a licensed electrician.
Smoke Alarm Installation Brisbane
If you are looking for the installation of smoke alarms in Brisbane, you have come to the right place. Our highly-trained electricians have the knowledge of the new legislation changes and can get your home setup properly.
Smoke Alarm Maintenance in Brisbane
Smoke Alarm Maintenance consists of more than just changing batteries. Our skilled technicians will provide quality maintenance and inspections. We believe preventative maintenance is necessary to protect your home and family. Our maintenance service will provide you peace of mind knowing that your system is in proper working order.
Oleada Electrical Smoke Alarm Service Costs
 We provide installation, testing and servicing for homeowners and rental properties.
New Smoke Alarm Installs – supply and install from just $167
Smoke Alarm Maintenance – yearly maintenance only $97
We Care About Your Safety
Fires are dangerous and smoke alarms are now required. If you are having any issues with your system day or night, give us a call. Oleada Electrical is available to assist you 24 hours a day 7 days a week. Electrical emergencies also happen. No matter what type of issue you are having don't hesitate to call our emergency electrician Brisbane team for help. Don't put yourself or your family in danger by trying to deal with electrical issues yourself. Not knowing how to properly work with electricity can lead to electrical shock and death.
QLD Smoke Alarm Legislation Changes
Queensland legislation changes have been put into place for your safety and the safety of your family. They require that all substantially renovated residences and new properties that have been approved after 01 January 2017 must have an interconnected, photoelectric smoke alarm system installed. We understand these legislative changes and can provide you with everything that you need. Check how the legislation affects you here.
New legislation requires that smoke alarms must be:
In every bedroom
On each storey
Located in hallways that connect bedrooms to the rest of the home
Positioned between bedrooms if no hallway is present
Located in the most likely path of travel if no bedrooms are on the storey
Photoelectric
Hardwired or contain a 10-year non-removable lithium battery
Interconnected with the rest of the alarms in the home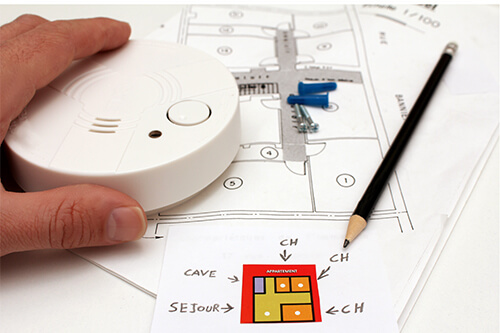 Photoelectric Smoke Alarms
The legislation changes state that every alarm that is replaced or installed on or after 01 January 2017 must be photoelectric.
So, what is a photoelectric smoke alarm? This type of alarm can give earlier warning signs. They can detect visible particles. They are the earliest type of warning system that can detect smouldering fires.
Why Do Smoke Alarms Have to Be Interconnected?
Having smoke alarms interconnected increases the chance that your family will be able to escape unharmed. If one smoke alarm goes off they will all be triggered. This allows people on the opposite side of the home, from the origination point, to be warned before the fire gets too close to them blocking their escape route.
Why do Smoke Alarms need a Battery Back-Up or Have to Be Hardwired?
Having your smoke alarm hardwired or having a battery backup means that they will always work. A battery can die at any time and if a fire happens it will not be activated. Hardwired alarms are run by electricity and if the electricity happens to be out the battery back-up will kick in and sound the alarm.
Contact Us for Your Smoke Alarm Consultation
Call Oleada Electrical for smoke alarm Brisbane installation. You can count on us to install your smoke alarms correctly. Our electricians never cut corners, we want to help keep your family safe and that's why we only use the highest-quality parts.
Smoke alarm testing services are critical in keeping your system working accurately.
Call us now on (07) 3186 9781 to set up your free consultation for work on your smoke alarms in Brisbane.
Queensland Smoke Alarm Frequently Asked Questions
Where should smoke detectors be installed in QLD?
In every bedroom, in hallways between bedrooms, on each storey – if no bedrooms on a storey, at least one needs to be installed on the path of the most likely exit.
How many smoke detectors do you need in a house in QLD?
Queensland legislation specifies all dwellings need to have interconnected photoelectric smoke alarms in all bedrooms, hallways that connect bedrooms and on every level of the dwelling.
How do you test smoke alarms?
By pressing and holding the "Test" button until the smoke alarm beeps 3 times.
How often should you test a smoke alarm?
It is good to test your smoke alarm once per month. It is a good habit to do on the same date every month.
Do I need an electrician to install a smoke detector in QLD?
Yes, a licenced electrician must install and replace hardwired smoke alarms in Queensland.