Are you buying a ceiling fan anytime soon? Ceilings fans are a fantastic natural cooling system. Not only that but they can help you save money on your electricity bill all year round. However, it's essential to choose the right kind of ceiling for your space.
A fan that's too small or has the wrong motor won't help. So, what should you make sure you look out for? Here are 6 things you should know before buying a ceiling fan.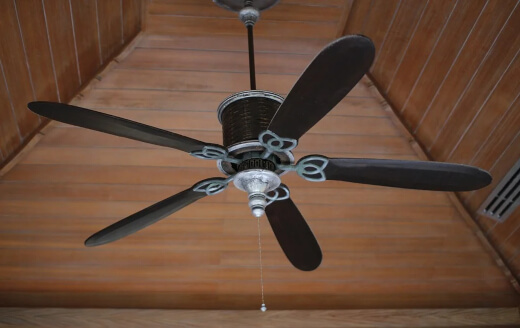 6 Tips on Buying a Ceiling Fan
1. Consider the Size of Your Room
While it may seem like an obvious one, you need to look for the right sized fan for the room in which you wish to install it. You won't want to be stuck with a fan that's too big or too small. 
Larger rooms will definitely need a fan with bigger blades, whereas in smaller spaces you'll be able to get away with a more compact model. Smaller rooms which are about 4 x 5 metres in size will suffice with 122cm blades.
Larger rooms that range around 6 x 6 metres will require blades that are a minimum of 132 cm.
Installing ceiling fans outdoors will require a speacialty outdoor ceiling fan that can withstand the elements, even though it will be installed undercover and not directly in the elements.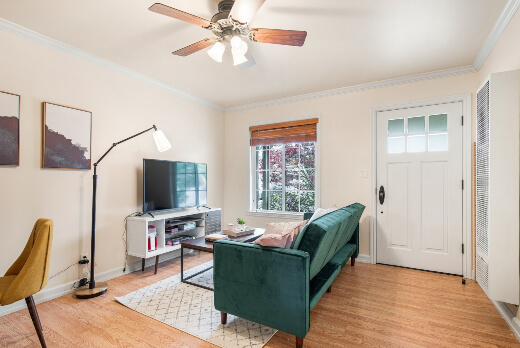 2. Choosing the Right Material
What material you choose won't only be determined by the style and aesthetic you want to stick to. In general, you'll need to choose between metal, wood and plastic blades. 
Metal blades are incredibly durable and do well at circulating lots of air. However, they tend to be quite noisy when in use. Metal blades are best recommended for bigger rooms, kitchens and patios. 
Wooden blades are better suited for bedrooms, home offices and the like. While they won't be able to circulate as much air as metal blades, they are far quieter when in use. Plastic blades are generally the most cost-effective option. Unfortunately, they just aren't as durable as the rest. 
If you're looking at putting a fan in a bathroom or living in a coastal area with high humidity, we recommend blades that are rust-proof and specially coated. 
3. Energy Efficient Motor
In general, you'll want to look for a technologically advanced motor for your fan and one that offers maximum energy efficacy. Most fans will either have an AC or DC motor. AC motors have an alternating current and need to be connected directly to the power source.
They are the most common type of ceiling fan. DC motors use a direct current, where the power source is attached to a transformer which then converts the current into a direct current. 
AC motors will use more electricity but are far quieter, whereas DC motors use far less electricity.
4.  Ceiling Fan Styles and Accessories
You don't have to choose a stock-standard ceiling fan, and there are now so many styles, colours and fan types available on the market. You can now choose an elegant ceiling fan with a built-in light. These lights either come in bowls, as spotlights or in assorted glass casings. 
Plus, some innovative models now come with LED bulbs where you can control how dim or how bright you want them. More so, you can now choose whether you want a remote control for your fan, for easy access, or if you're going to keep your control mounted on a wall.
Some ceiling fans also have a timer control setting to switch off automatically or switch off. 
Ceiling fans are super-efficient and can help you save a significant amount on your electricity bill. Did you know that most fans come with a summer/winter switch? This means that the blades are angled to draw up warm air and circulate the cold air in the summer. However, if you turn the switch, in winter, your blades will push warm air down. 
It's advantageous and enables you not to have to set your air conditioner so high or low, saving you on the electricity bill.
It's important to note that you can just install your ceiling fan anywhere, and you'll need to follow certain regulations. Your ceiling fan will need to sit at least 30cm below the ceiling, and at least 2.1 metres from the floor. 
You can use a ceiling mounting kit that sits flush against your ceiling for lower ceilings, providing you more space. If you have a tall ceiling, you can use an extended mount to lower your fan and ensure it still regulates the air. 
We recommend contacting an installation specialist to ensure your ceiling fan is expertly installed and in the exact right spot. 
Buying a Ceiling Fan Summary
That concludes our ceiling fan buying tips. Choosing the right ceiling fan may not be as straightforward as you thought, but now you know exactly what to look for. In general, you'll want to guarantee the right size and quality blades for the room.
The better the quality, the longer it will last, which means many cool summers and warmer winters- without the risk of bill shock. Now you are more equipped when buying a ceiling fan. 
Book your Ceiling Fan Installation Today
✔ Prompt Local Service    ✔ High Quality Workmanship    ✔ Excellent Value