If you're questioning whether you need an electrician for your home renovation, the answer is YES. During a home renovation, you'll often need a licensed electrician to install or upgrade light fittings, home automation systems, power outlets and heating and cooling.
Trying to save a few dollars by doing it yourself is just not worth the risk. DIY electrical work is illegal. Occasionally, we get to see unfortunate results like broken appliances, fires and even severe injuries.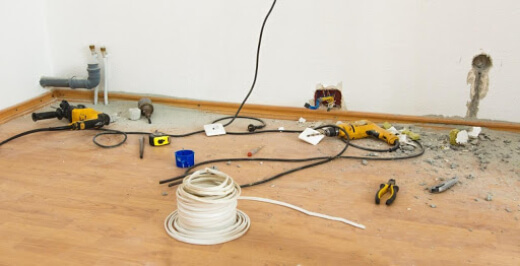 Why You Should Never DIY Electrical Work?
We often get asked what DIY electrical work homeowners are allowed to do on their own. You can usually change a light bulb, plug in appliances or install extra low voltage garden lighting. But that's about it.
DIY work is prohibited for tasks like installing new power points, repairing certain electrical appliances, changing power point locations, constructing extension leads and replacing light switches. Unlicensed, DIY electrical work in Queensland is illegal with penalties up to $40,000 for individuals.
A breach that results in injuries, illnesses or death can lead to penalties of up to $600,000 for individuals. There is a good reason why Queensland and other Australian state governments take unlicensed electrical work so seriously.
For starters, a small mistake could have catastrophic outcomes like house fires, shocks, electrocution and even death. You also end up risking your home insurance. Even experienced electricians sometimes face dangers, so amateurs should ideally avoid the complications of electricity.
What Type of Home Renovation Needs an Electrician?
This depends entirely on the scale of your home renovation. For minor upgrades, you may not need to change electrical components. But for larger renovations, a licensed local electrician will ensure any electrical job is safe and compliant. 
In Brisbane, however, note that not all professional electricians may be equipped to do electrical installation jobs. For example, a business with a silver contractor licence is restricted to testing and repair, and is not allowed to install any electrical equipment.
A qualified electrician must have a gold contractor licence to do any installation work for your home renovation.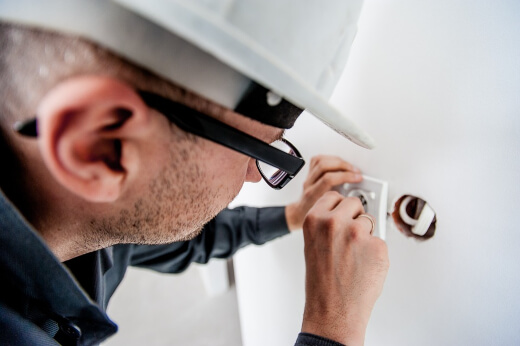 Types of Jobs an Electrician Does in a Home Renovation
A qualified and experienced electrician undergoes rigorous training and takes every precaution possible to meet regulatory and safety standards, making sure your home renovation progresses smoothly. Electrical work will vary depending on the age of your house and scale of your renovation.
Older homes may be unable to keep up with modern day demands. For this reason, an electrical upgrade may be necessary. Some of the jobs an electrician will complete during your home renovation include:
New Wiring Installations 
From upgrading old copper wires to installing new wires for additional lighting, automation technology, underfloor heating and home theatre systems, an electrician will stay up to date with local compliance codes so that your wiring is safe for years to come. 
Electrical Panel Installations and Upgrades 
If you plan on installing new appliances like dryers, spa baths and dishwashers as part of your renovation, electrical panels may need to be installed or upgraded to ensure that your home is powered up to handle additional electricity in your home. 
New Appliance Installations 
A common feature during home renovations is the installation of new and modern appliances like dishwashers, dryers, televisions, security systems and home automation.
For these types of jobs that require wiring to power the appliance, you will require an electrician. 
Lighting Installations and Upgrades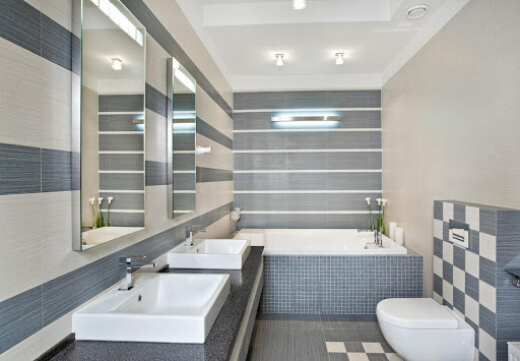 If you're planning a kitchen or bathroom renovation, upgrading the lighting can really make these areas stand out. An experienced electrician will ensure that the new lights are wired in correctly and circuits are upgraded if required. 
Keep in mind that in apartments, bathroom renovations often require strata approval, so be sure to check this in advance.
Heating and Cooling 
If you decide to install ducted or split air conditioners during your home renovation, an electrician will help to ensure accurate wiring and circuit installations to ensure your home can handle the additional electrical load.
Everything from hot water systems to ceiling fans are best left to a professional electrician to avoid any dangerous situations or legal fines.  
We always recommend working with your electrician at the start of a renovation so all electrical tasks can be seamlessly coordinated with other contractors.
Trust Our Electrician with Your Home Renovation
As an experienced domestic electrician in Brisbane and surrounding areas, Oleada Electrical has helped hundreds of clients' reap the benefits of safe and modern electrical systems during a major home renovation. 
We are experienced at working with all kinds of contractors and tradesmen from start to finish – assuring you of a high-quality, guaranteed job, every time. 
Contact us for a quick, no-obligation chat and let's chat about how we can work together. Let our electrician help with your home renovation.