Photoelectric smoke alarm systems are the most recommended smoke alarm systems in Queensland and there is a reason why. In the event of a fire emergency, you want to make sure that you are notified as quickly as possible and have enough time for you and your family to escape.
So, what makes interconnected photoelectric smoke alarm systems so effective?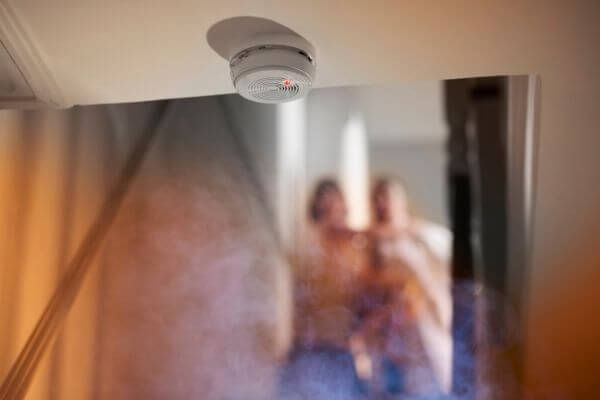 What is A Photoelectric Smoke Alarm System?
This type of smoke alarm is characterized by its use of light to detect when there is a fire. Unlike the previously popular ionized smoke detectors, they can signal a fire more effectively. 
In layman's terms, ionized smoke detectors need to smell the fire before signalling, whereas a photoelectric smoke detector can see whether there is a fire. 
A photoelectric smoke detector is fitted with a light-sensing chamber. Within this chamber, an LED shoots light across the sensor, should any kind of smoke enter the sensing chamber, the light from the LED is refracted, triggering the sensor. Thus, signalling a fire. 
Why Are Photoelectric Smoke Detectors Better?
While some may still argue the difference, evidence shows that a photoelectric smoke alarm is far more reliable and quicker to react than its ionization counterpart. 
Ionization smoke detectors do well in detecting rapid flame fires; however, they just cannot compare to photoelectric systems when it comes to smouldering fires. 
You can find dual-sensor detectors on the market, which contain ionization and photoelectric systems, Government legislation requires homes to be fitted with interconnected photoelectric smoke alarm systems. 
Queensland Smoke Detector Legislation
Since January 1st, 2017, all dwellings have needed to comply with stricter rules regarding fire safety in the home. Homes are required to comply with Australian Standards (AS) 3786-2014. 
This requires the home to be fitted with either a hardwired or photoelectric smoke detector with lithium battery. Even if your photoelectric smoke alarm is hardwired to your main power supply, it is required to have an internal lithium battery, to ensure it remains functional even in a power outage. 
New legislation which will come into effect in 2022, will require interconnected photoelectric smoke alarms in all dwellings, meaning that should one system trigger, they will all automatically sound the alarm. 
Landlords are required to clean and test the smoke alarm system within the first 30 days of taking residence. However, everyone should regularly clean and test their smoke alarm system. 
You'll need to make sure your smoke alarm is:
A Photoelectric smoke alarm with lithium battery. 

Less than 10 years old. 

Works when tested. 

Is interconnected to other smoke alarms in your home.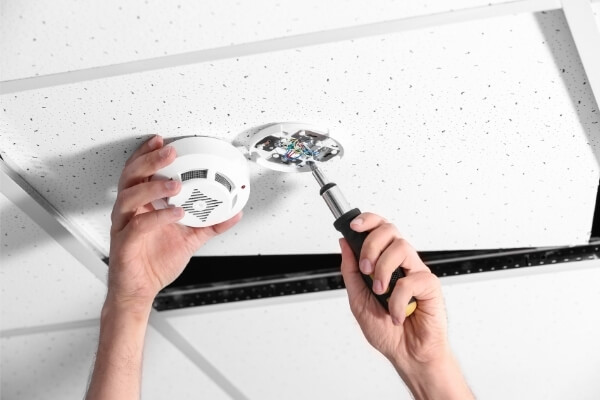 How to Spot an Inferior Smoke Alarm?
While there are cheaper smoke alarms available on the market, it's essential to buy the right smoke alarm and make sure your home is adequately protected by knowing how to spot inferior photoelectric smoke alarms. 
You will need to check that any smoke alarm you purchase is Australian Certified, which means they have a conformity certificate and are legally compliant. The best way to know if your photoelectric smoke detector is certified is to check if it is ActivFire listed. 
If it is listed, you should be able to find the verification symbol at the base of your smoke alarm system. A photoelectric smoke alarm system will have a PD symbol at their base along with their certification symbol. 
Ionization smoke alarm systems will generally have a yellow label with a radiation symbol. 
Have A Photoelectric Smoke Alarm Installed The Right Way
A key factor is not only that you'll want to purchase a quality photoelectric smoke detector. It's imperative to contract a reputable photoelectric smoke alarm installation specialist who understands the legislation and will ensure your systems are installed in the right place. 
Proper installation is crucial, so be sure to contact a licenced electrician who can get the job done right. 
Fire safety is so important and with a photoelectric smoke alarm system you can not only make sure that your home is legislation compliant but properly protected so you and your family can remain safe in the event of a fire emergency. 
Call For Your 

Photoelectric Smoke Alarm System Installation in Brisbane Today
✔ Prompt Local Service    ✔ High Quality Workmanship    ✔ Excellent Value