Brisbane's Leading Electrician 
Open 24/7 for Emergency Electrical Work
We service the wider Brisbane region and the Gold Coast

 Save money   24/7
 10% off for seniors
High quality   No stress

Choose Oleada Electrical for all your electrical needs in Pullenvale. We have earned a reputation for quality service and reliability. Regardless of the time of day, we are here to assist you. 
Our licensed electricians can handle anything from switchboard upgrades, power outages to air conditioning installations.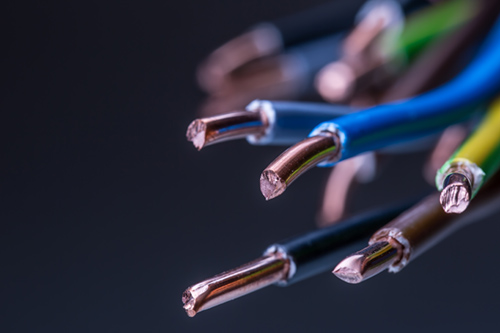 24 Hour Emergency Electrician in Pullenvale
We are your local Pullenvale electrician. We are close by and can get to you quickly. Don't wait until morning to call us, we have electricians available 24/7. 
 We provide service for: 
Fallen lights

Damaged light switches

Lights are out

Power loss

Broken power switches

Exposed cables or live wires

Fridge not working

Fallen ceiling fan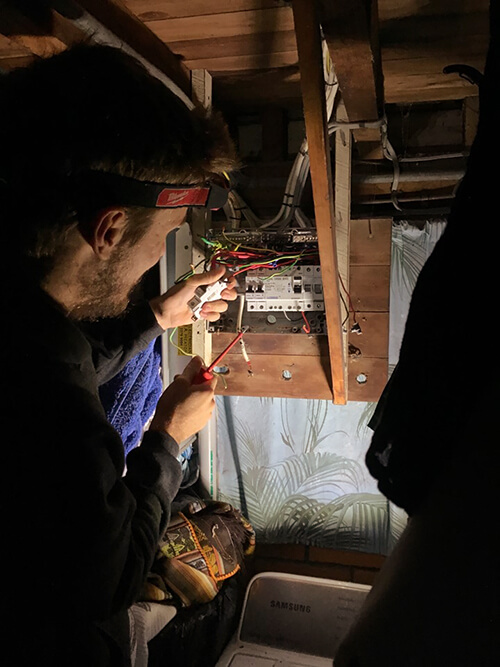 Benefits of Hiring Oleada Electrical
First-Class Work
All our work is professional and first-class.
Emergency Electrician Hamilton
Call us any time day or night.

Fees Will Be Discussed Upfront
We don't want you to be surprised. That's why we discuss fees upfront. We are also proud to give 10% off for seniors.
Always On Time
We won't make you sit around and wait for us. We know your time is valuable. That's why we are always on time.
Clean Up the Rubbish
Once our electricians have completed your job, they will clean up the rubbish.
Safety
Electricity is dangerous. Our highly-trained electricians know how to work with it safely.
Reliable
Call us anytime day or night. We will be there when you need us.
We Have the Tools and Equipment
Our skilled electricians have all the specialised tools and equipment needed to get your job done right.
Lifetime Warranty
We offer a lifetime warranty on all work completed and a 100% satisfaction guarantee.
Electrical Services We Provide:

Switchboard Upgrades in Brisbane
Old electric switchboards can be dangerous and frustrating. They cannot handle the electricity load and constantly blow fuses. If you have an old switchboard in your home, we recommend that you have a switchboard upgrade performed
An upgrade will help protect your home and family. It removes the dangers that come along with a faulty board. Switchboards can wear out over time. An old board can lead to a house fire and electrical shock. If you have any of the following symptoms, you need a switchboard upgrade in Pullenvale.
Absence of a safety switch

Fuses keep blowing

Lights that flicker

Loose connections

Overcrowding

Rewired fuses

Short circuits
Many older switchboards contain asbestos. Asbestos is a known carcinogen and has been linked to causing cancer. It needs to be removed from your home by a professional. Our electricians have had training on how to properly remove this harmful substance.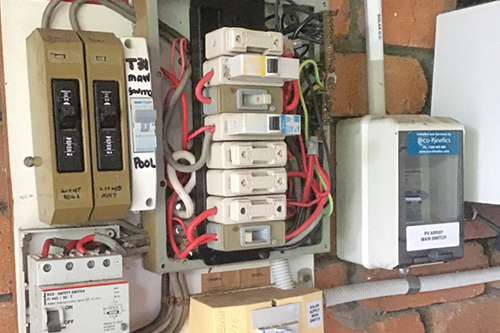 Residential and Commercial Electrical Services in Pullenvale
We offer a full range of residential, commercial and emergency electrical services. Our electricians are fully licensed and insured. Whether you are performing a remodel or building a new home, we've got you covered.
 Our services include:
Electrical safety inspections
Fault finding and troubleshooting
Hot water system installation
TV aerial point installation
Commercial wiring and rewiring
Electrical service upgrades
Light switch installation and replacement
IXL installation – bathroom lights and fans
Kitchen appliance installation
Lighting, including recessed
Testing and troubleshooting
Power point installation and replacement
Real-estate property management electrical contracts
Queensland legislation changes have been put into place for your safety and the safety of your family. They require that all substantially renovated residences and new properties that have been approved after January 1st 2017 must have an interconnected, photoelectric smoke alarm system installed. We understand these legislative changes and can provide you with everything that you need.
LED Lighting Installation
We offer the following services in relation to LED lighting:
Installation of new lights in your home or commercial space.
Repair or replace faulty lights.
Installing downlights and replacing downlights.
Recessed lighting installation.
Assistance in changing light bulbs in your home and offices.
Replace halogen lights with LED lights, we can also install dimmer switches.
Installation of both indoor and outdoor lighting.
We can help you determine the best position for your lighting.
Advice on what lighting will work best in the area you have.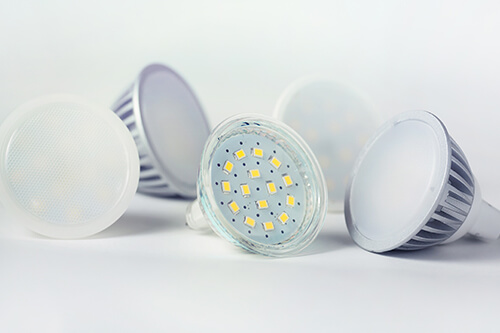 Hire the Best Electricians in Pullenvale
By hiring a subpar electrician you can be putting your family and home in danger. Don't take electricity for granted. When you hire Oleada Electrical, you will be employing the best electricians in Pullenvale.
Unlicensed electricians may offer you cheaper prices. But this is because they ignore safety rules and use low-grade components. Our licensed electricians will never cut corners or put your family at risk. At Oleada Electrical, our electricians are reliable and trustworthy. We know that you will be happy with their service.
Who Is Oleada Electrical?
Oleada Electrical is your local electrical contractor. We founded the company because we wanted to make a change in the electrical trade service space. Being a part of the industry we knew that it had a bad reputation. We wanted to make a difference and provide customers with great customer service along with top-notch service. We were positive that we could make our customers happy, and we have succeeded in doing so.
Book Your Free Electrical Consultation In Pullenvale Today
Call Oleada Electrical for all of your electrical work. Our top rated electricians will provide you with exceptional service throughout the whole process. If you are looking for an Albany Creek electrician call Oleada electrical today to book your free consultation.
Don't try to handle electrical work yourself. Electricity is dangerous and can be deadly. Call the professionals at Oleada Electrical. We can take care of all your electrical work in Pullenvale. Qld 4069, quickly and safely.